Kevin has mastered music for every major label in every genre, including pop, rock, jazz, classical, adult contemporary, alternative, punk, heavy metal, new age, gothic, world ethnic, disco, dance, soul, blues, and hip-hop / rap. He has to his credit more than a hundred top ten and Grammy award winning records, and dozens of RIAA certified gold and platinum albums and singles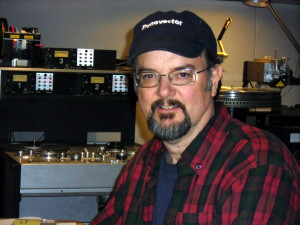 At the age of eighteen, Kevin Gray was the youngest mastering engineer in the country when he started cutting records at Artisan Sound Recorders in Hollywood. That was in 1972. Over the next five years, he cut hit after hit for artists as diverse as: America, Paul Anka, The Beach Boys, Debby Boone, Donald Byrd, Mac Davis, ELO, The Grateful Dead, Freddie Hubbard, Billy Joel, L.T.D., Manassas, The Osmonds, Kenny Rankin, and Redbone.
In 1977, he and his friend Bob Van der Veen produced, and Kevin mastered, a direct-to-disk recording for jazz pianist Victor Feldman, "In My Pocket" which they released on their own label, Cohearent Sound.
In 1979, he and his business partner, Doug Sheppard, opened their own mastering facility, The Cutting System, Inc. All electronics were discrete Class-A, transformerless and were designed and built from scratch by the duo. This was the FIRST, and still the only system of its kind in the world! Projects were mastered for Bob Welch, Jay Ferguson, Pages, and many more.
In 1982, he was called upon again to master another direct-to-disk recording for Victor Feldman, "Secret of the Andes", this time for Nautilus Recordings. This was the year that Kevin founded Cohearent Audio to do recording, and build custom loudspeaker systems and studio electronics.
With the compact disc looming on the horizon, Kevin decided to take a position with MCA Records, heading their mastering department. In his stay there, he mastered records for The Fixx, Musical Youth, Red Rider, Night Ranger, The Who, and many others.
From 1984 to 1989, he mastered at LRS in Burbank, working mostly on syndicated radio shows for personalities such as Casey Kasem, Dick Clark, and Rick Dees. He also mastered records for The Beach Boys, Rod Stewart, The Yellow Jackets and Celebration. In 1989, he helped LRS launch into CD mastering. His old friend from MCA days, reissue guru Steve Hoffman, brought DCC Compact Classics mastering to him and over the next six years they mastered reissues (for CD and vinyl) for everybody from The Doors, Creedence Clearwater Revival, and Cream, to Elton John, Miles Davis, and Lightnin' Hopkins.
In 1995, Kevin moved to Future Disc Systems in Hollywood (who incidentally purchased his custom mastering system). In 1996, Kevin was responsible for the mastering of the MCA Heavy Vinyl Series – The Who, Buddy Holly, Dave Mason, Buddy Guy, and the "Out of Africa" soundtrack. He and Steve Hoffman continued to work on DCC releases such as Bonnie Raitt, Jethro Tull, and Jefferson Starship. He also mastered new (digital and analog) major label projects for Wang Chung, Paula Cole, Depeche Mode, Gina G, and Erasure. He cut the Grammy winning Best Dance Recording in 1999 (Madonna) and 2000 (Cher).
From 2001 to 2010 he mastered at AcousTech Mastering in Camarillo. There he installed his revamped all-discrete, pure Class-A, transformerless mastering system. Projects ranging from the 30th Anniversary reissue of Pink Floyd's "Dark Side of the Moon", to over 130 Blue Note Jazz reissues for Acoustic Sounds and Music Matters, were mastered. In addition, Gold CDs were mastered for Audio Fidelity and Impex, and SACDs for Acoustic Sounds. Friday Music, mastered 38 LP titles with Kevin in 2010 alone. Artists included Heart, Jefferson Airplane, Loggins and Messina, Boz Scaggs and many, many more.
At the end of September, 2010, AcousTech closed its doors, and soon after Kevin opened his new facilty, Cohearent Audio, LLC.
On Nov. 1st, 2022 Cohearent Audio completed its 12th full year of mastering. We would like to thank all of our clients for twelve great years!